Today I must stop putting off going to the gym. Especially after yesterday.
I wore this dress...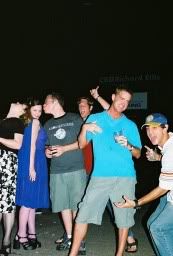 That's me on the far left in the black & white.
Keep in mind this photo was taken in August. The dress fit then. So I wore it yesterday because
a)
I'm too lazy to unpack and
b)
They can't make me do anything too 'physical' (lifting, carrying, etc) if I'm all dressed up. So I put the dress on to discover it was now like 2 sizes too big. Had I lost THAT much weight? So I was pretty happy about that. Happy enough to eat 1 cheesestick, 1 slice Hawiian pizza, a TON of candy and ice cream cake at Penelope's birthday party.
I guess I'm trying to fill the dress back out. Hence today = gym.
Also, everyone needs to take note of my new link for
Bad Movies.Org
, which is good for hours of entertainment when you should be working.
Have I mentioned how badly I miss Brian? I thought by now it might go without saying.
So I said it anyaway.
Hey! remember Garbage Pail Kids?